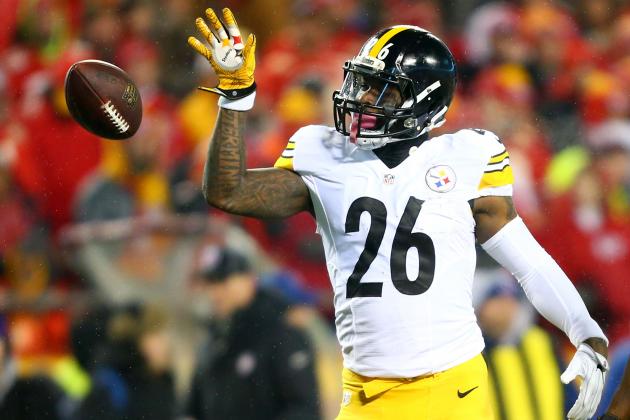 Le'Veon a prayer. (Photo creds to bleacherreport.com)
By: Joe Smeltzer
As Sunday night's contest between the Pittsburgh Steelers and Kansas City Chiefs progressed, I started to worry. Obviously, the main reason for my concern was that I love the Steelers and, naturally, wanted like hell for them to win this playoff game. But a secondary reason for my concern was that, should the Steelers fall; what would that give me to talk about as a writer?
If the Steelers season ended in the cold of Arrowhead Stadium on Sunday, of course, it would have been disappointing. But I don't believe that it would have been disappointing enough in which I, as an aspiring journalist, would have been able to justifiably rip the 2016 season to shreds. Nor would I be able to praise the Tomlin bunch for a season that went above expectations, as with a loss in the divisional round, Pittsburgh would have been in the same position at the beginning of 2017 as they were at the start of 2016, and that, my friends, would be boring. As a writer, I find that sports franchises are fun to write about when they are;
A. Doing particularly well or
B. Underachieving
As I wrote about in
an earlier article,
had the Steelers lost on Sunday, I don't believe that this team would fit into either one of those categories. Luckily, they won.

Now, I know that the season is not over yet. I know that the Steelers are relatively heavy underdogs in New England, as all visiting teams are, and I also know that some goofy, entitled yinzers are going to call for blood if this team falls short of a 7th Lombardi. But I think that all Steelers fans who do believe in rational thought will be happy with what this team has accomplished regardless of what happens from here on out.


While what the Steelers have accomplished this season is impressive, that doesn't mean that it is surprising. We all know about the talent that this team has, and many of us; including Big Joe himself, picked the Steelers to be their 2016 Super Bowl Champions. That said, there is no denying; again, from rational people, that the Steelers have taken a step forward in 2016-17. For the first time since 2011, the men of steel are among the four finest units the NFL has to offer, and to look at that as anything less than progress would take a greedy and negative outlook.

What makes this season impressive above all else, to me, is the night and day difference from Sunday, November 13th, to the present day. At the time of that rough 35-30 loss to Zeke Elliot and the Dallas Cowboys, the Steelers were 4-5. The offense was inconsistent. The defense stunk. Nothing seemed to be working. Then, all of a sudden, the switch flipped, and the rest is glorious history.

While I'm on the topic, How about this young defense? Yes, most of the gushing from the KC game is over Le'Veon Bell and Chris Boswell. But the D won it for the Steelers. Anytime a team can win a game without scoring a touchdown; I know who deserves the credit. These young corps that would be among the youngest in football if not for the menacing presence of 38-year-old James Harrison, get better every week, and it will be intriguing to say the least to see if they're ready for Tommy Boy this Sunday.

Regardless of what happens the rest of the way, it is important for us to realize that the Steelers have not been this good in a long time, and they overcame a lot of adversity to get to where they are. The offense had to prove it's worth. The defense had to grow up. Look where we are. 60 minutes away from Super Bowl 51. Splendid, eh?

Now, I will give credit to my good buddy, Mitch Montani. Before the season, I remember him saying that the Steelers season would come down to a cold, January day in Foxborough. Well, Mitch, you were finally right about something. Have a cookie.