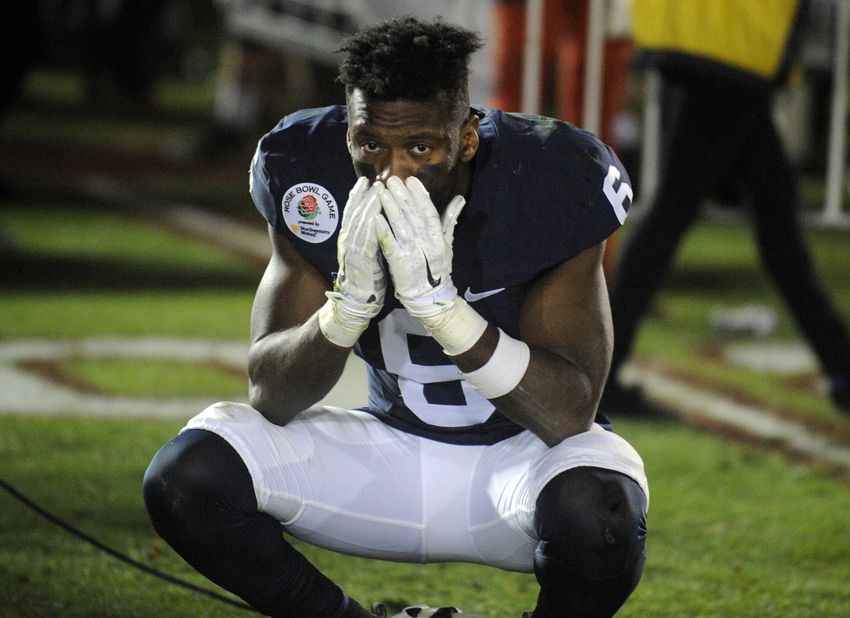 To Senior Safety Malik Golden, the Rose Bowl was far more than an exhibition
By: Joe Smeltzer
"F--- Sports"
Those are among the first words that popped into my mind the second USC kicker Matt Boermeester's kick sailed through the uprights as time expired on possibly the greatest contest in the 115-year history of The Rose Bowl.
Before the game, I had a "nothing the lose" attitude about my Penn State Nittany Lions. I figured that, as long as the game was close, as long as the team gave it their all until the final gun, that it would be an OK ending to my favorite Penn State season since I've been born. It was easy to envision that this is how I would look at it; until the game started.
It was one of those events where I felt every possible emotion that a sports fan could experience. Concern, joy, sadness, anger. In a span of 3 and 1/2 hours, I felt it all. It is rare that one can experience the best and worst of being a sports fan throughout 60 minutes of football, and the 2017 Rose Bowl between the Penn State Nittany Lions and the USC Trojans was that type of game.
It started out with all the makings of my worst fears. Penn State quarterback Trace McSorley's first two passes were both picks, and the Trojans got out to an early 20-7 lead. But the Lions offense held their ground and went into the locker room down 27-21. For most of the second half, it was nothing but pure joy.
Three plays. Three touchdowns. Just like that, it looked like the Nittany Lions were on their way. But the bloody Trojans would not die, and their freshman QB who is a senior in everything except body, Sam Darnold, along with that great receiving corps, wound up tying things up at 49 with 1:20 to play. Now, it was all worry. And the funny thing is, my body was experiencing all of these different emotions because of, basically an exhibition game.
Yes, it was the Rose Bowl, and the history of that game needs no explanation. That said, it wasn't going to cost Penn State a conference or national title, and, barring serious injury, it wasn't going to darken their outlook for next season. But yet, the game felt like a pretty damn big deal. I'm not quite sure why this is. Maybe it was the mystique of Pasadena. Maybe it was the fact that these two teams played much better football than we saw in the College Football Playoff semifinals. But this glorified exhibition had the feel of a Super Bowl level affair.
As I watched Trace McSorley throw an INT in the game's dying seconds, and as USC set up for the kick that would sink the Nittany Lions, I thought back to what my father had told me just a few minutes earlier, when the game looked to be headed for overtime.
After the Trojans had tied it up, I threw my Rose Bowl hat that I got for Christmas to the ground. Instead of yelling, my dad calmly told me "enjoy it for what it is." I didn't want to hear stuff like that at this intense moment. But now that it's been over with for a few days, it's easy to see what he meant.
Looking back, I should have enjoyed the Rose Bowl for what it was. The 2017 Rose Bowl happened to be the biggest college football bowl game outside of the playoffs, and, as it turns out, much more attractive. It also happened to be a tribute to Penn State football, as nobody on the planet ever thought that they could win the Big 10 title and get to the "Granddaddy of them all." It was a showcase of all the talent that Penn State has- and still will have in 2017, as SaQuon Barkley, Chris Godwin, and Trace McSorley all stole the show at various points in the game. What it was personified why I love sports.
"The Rose Bowl" was a drama, much like "Game of Thrones" or "The Walking Dead," only this was real life. That is, in a nutshell, why sports are so unique. To see James Franklin tear up during his final press conference of the season, minutes after his kids did the same on the Penn State sideline. To see Malik Golden drop to one knee seconds after the game was over, realizing that this was the last time he'd ever wear the Blue and White. To see all of this over what was, again, the world's greatest exhibition game, reminded us that the passion in our athletes is still there. Any doubts as to whether Leonard Fournette and Christian McCaffery would start a trend that would ruin bowl games were put at ease for anybody who watched the Rose Bowl. It was that damn good.
Yes, Penn State blew a 15-point second-half lead. But it didn't take me long to "enjoy it for what it was," meaning that the game, and the season, were both unforgettable. This has been my favorite Penn State team to follow, as they defied all of our wildest expectations. I can only hope that next year, they will justify much higher expectations.